Mail 61 2008
Wastech Recycling Systems Using ION Exchange
Wastech CIX skid-mounted 10-20 gpm ion-exchange water purification system.
Wastech is pleased to announce that it has entered into a strategic partnership with KINETICO Inc., which has specialized in ion exchange technology for 30 years. KINETICO has been a pioneer in industrial water recycling and continues to offer innovative ion exchange designs for water purification, waste water treatment, and water recycling for regulatory compliance at the lowest possible cost. KINETICO technology now allows Wastech to offer skid-mounting, turnkey water recycling packages to industrial customers for water reuse without surprises or cost overruns.
The KINETICO ion exchange process removes dissolved ions from solution using synthetic resins to attract cations or anions, then releases (exchanges) counter-ions until the resin is exhausted. As the solution flows through a resin bed, ion exchange occurs. The process continues by regenerating or replacing ions on the resin. Regeneration of the resin uses on-site packed bed, counter-current technology, which minimizes chemical use and waste volume compared to competitive systems. The patented KINETICO valve offers counter-current regeneration which uses 50% less chemicals and 50% less water than conventional deionization systems.
The KINETICO ion exchange process is suitable for many industrial applications:
Quality improvement of incoming municipal water.
Purification and recycling of contaminated rinse water.
Contamination elimination prior to waste water discharge.
Regulatory compliance.
Life extension of process solutions.
With ion exchange, high purity water is produced for continuous reuse. Metals are recovered, and solid wastes are reduced. Recycling industrial process water using ion exchange is not only environmentally beneficial, but is typically more cost effective than conventional treatment and discharge methods. It can be combined with waste stream segregation and other waste water treatment technologies available from Wastech, such as activated carbon, filtration bags or cartridges, and other media.
Wastech also offers a complete line of proprietary chemical precipitation chemistries and complete automated hardware packages for their use. Our laboratory will analyze your sample and demonstrate our solution. In addition, pilot equipment is available for rent to validate a solution before you invest.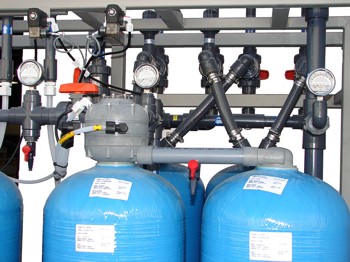 The patented KINETICO DI valve provides counter-current regeneration for 50% less chemical usage and 50% less water usage than conventional deionization systems.
Wastech Skid-Mounted Ion-Exchange Systems
Wastech skid-mounted ion-exchange waste water recycling systems eliminate costly servicing of deionized (DI) water bottles and are exempt from on-site hazardous waste regulations.
CIX 5,10 or 20 gpm systems. Closed loop skids for high quality deionized water using duplex cation and anion resin vessels to remove selected heavy metals. Designed for continuous operation, the systems are completely prepackaged and pre-plumbed on a stainless steel skid. Premium, long-life, quality resins are selected to match the application. This are totally automated systems with a UL rated, CSIA certified control panel, an Allen Bradley touchscreen, and a PLC with Wastech licensed software. The capacity of the resins is optimized for the application, and the system is totally monitored.

HFX 35, 55, 75, 115 & 135 gpm systems. Closed loop skids for removing Total Dissolved Solids (TDS) effectively and economically. A modular design available in both duplex and simplex configurations to produce pure deionized water. The systems enable continuous operation with 100% component redundancy. Totally automated with UL rated controls, Allen Bradley touch screen, and PLC with communication options. No operator programming is required. Wastech's HELPNET insures timely support online with now waiting for a factory representative to arrive on-site.
Wastech is prepared to add options as needed, including booster pumps, neutralization systems, DI water storage, re-pressurization, and ultraviolet disinfection.

For Assistance with Ion Exchange Water Recycling

Call us at 818-998-3500 for assistance and a quotation.
Ben Naylor – Application Engineer (ext 227)
Harold Sipe – Senior Application Engineer (ext 224)