Mail 52 2007
Stainless Steel Solvent Collection Systems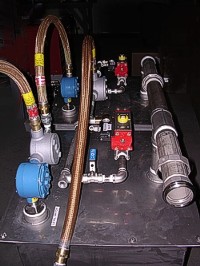 Solvent collection applications are growing in importance as disposal problems increase. Solvents, in addition to being expensive and a significant cost that must be monitored, are hazardous and difficult to destroy. Because of their volatile nature, they pose a high fire hazard and must be handled as an explosion risk. Usually a Class 1, Div 2 explosion proof rating is needed. In addition, double containment is the norm because of the contamination risks.
A solvent must be segregated from other waste streams for various reasons. Often solvent is recycled and therefore collected for sale to a licensed recycler. If not hauled from the premises, it must be destroyed usually by oxidation either using combustion or advanced oxidation techniques. The piping system is usually stainless steel, and the pump lift stations are rated explosion-proof.
Pump lift stations for solvent come in many sizes. Wastech fabricates all solvent lift stations using 304 stainless steel with or without containment. Larger systems come with standard 30, 60 and 110 gallon SS tanks and tops, and with appropriate sized pumps.
Pumping solvent can be a problem because of incompatibility with seals and pump materials. Although PP is rated for some solvents, PVC and solvent welded joints are not. The best pump is an air operated stainless steel pump because it uses air and avoids all electrical risks. An explosion-proof solenoid valve may be located on the pump for air control, or a Wastech control and monitoring panel may be located in a safe area and include solenoid valves for pump control.
Packaged solvent collection systems are available for storage in a utility area feed by one or more solvent pump lift stations. These include one or two stainless steel drums in a special metal cabinet rated for flammable liquids. Automated switching between drums is possible, and often the entire system is monitored. A discharge pump with pump controls may be included for pumping to the tanker truck hauling the waste offsite. Sensors and solenoids will be stainless steel and will be rated for IS or Class 1, Div 2 applications.
Click for more information and standard Wastech Solvent Collection Systems and for Wastech stock pump control panels and pricing.

For Assistance with Solvent Collection Systems
Solvent collection systems are expensive, but necessary. Wastech is emerging as a leading supplier of total solutions, which include stainless steel fabrication. Call us at 818-998-3500 for a telephone consultation, engineering assistance, and a quotation. Using WebEX online teleconferencing, we can define the requirements, show examples of the hardware and other installations, and customize a solution.
Ben Naylor – Application Engineer (ext 227)
Harold Sipe – Senior Application Engineer (ext 224)