CHEMICAL DISPENSE SYSTEMS

Wastech Chemical Dispense Systems (CDS) are designed for precise chemical injection. These systems use high quality corrosion-resistant metering pumps to inject chemicals into a process tank or piping manifold. These systems can be provided with a double-contained chemical supply tank or as a metering pump skid only. Custom configurations are available, call or e-mail Sales.
Specifications
Simplex (one pump), duplex (two pumps), triplex (three pumps), or multiple configurations
PVC, CPVC, PP, or stainless steel piping materials
Fabricated polypropylene or stainless steel skids
Skid-mounted design, ready to install
Factory-piped, wired and tested before shipment
Integrated or remote control panel
Indoor installation
Standard Features
UL-listed control panel
NEMA 4 powder coated steel enclosure
Relay or PLC-based control system
Metering pumps for precise chemical dosing
Isolation valves for each metering pump
Double containment for systems with holding tanks
Run permissive for remote enable/disable
Seismic tie-down brackets
Optional Features
Metering pump enclosure for spray protection
Proportional injection based on flow
Backpressure regulator
Pressure relief valve for over-pressurization protection
Pulsation dampener for pump discharge
Calibration column for pump calibration
PVDF, PFA, and PTFE piping and tubing
---
Valve Manifold Boxes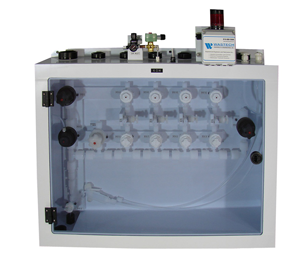 In semiconductor, pharmaceutical, and chemical processing applications, custom valve boxes or cabinets are often needed. These can be required for safety, leak detection monitoring, or security reasons. The boxes come in all sizes and shapes. They can be made of regular polypropylene or fire retardant FM4910 rated materials to eliminate or restrict fire and smoke damage.
Each box can have a variety of manifolds, different door designs and door hardware (clear plastic or solid), sensors mounted for leak detection and an integral electrical panel for alarms and controls. They can have manual, pneumatically actuated or electric solenoid valves. Special stem configurations can allow emergency shutoff without opening the cabinet.
Wastech Controls will design and fabricate custom process valve boxes for your exact needs. Our shop can work with thermoplastics or stainless steel.
---
Tank Fill Stations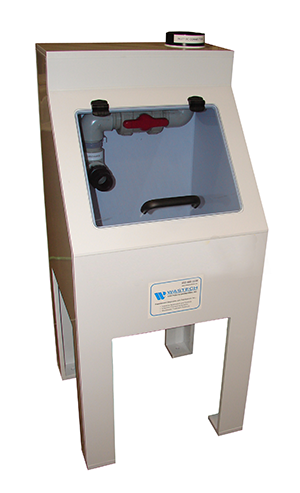 To complete the Chemical Dispense system, you can easily and safely transfer chemicals between a storage tank and a chemical supply or waste truck utilizing one of Wastech's welded polypropylene Tank Fill Stations.
Wastech's fill stations feature a containment area for leaks and drips from truck connections, a drain valve for the containment area and a hinged PVC cover for valve and connection access.
---
Need a Custom System?
Wastech Controls and Engineering, Inc. offers custom design and engineering of state-of-the-art turnkey systems.
One of Wastech's application engineers will discuss the nature of your process with you exclusively for your facility.
Call (818) 998-3500 or email This email address is being protected from spambots. You need JavaScript enabled to view it. for a quote or more information.