About Us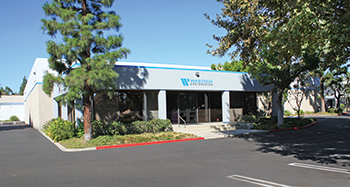 Wastech Controls & Engineering Inc. is a California based corporation founded in August, 1987. Under the same management and leadership, Wastech Engineering has become a nationally recognized process system integrator offering complete facility equipment design and manufacturing, after-sale support and automation solutions in the areas of chemical handling, water and wastewater treatment to industrial customers. In addition to engineering and design competency and services, Wastech Controls & Engineering Inc. has specialized in turn-key packaged systems for industrial waste treatment applications in the solar, pharmaceutical, biotechnology, semiconductor, research laboratories & hospitals, aerospace, metal finishing, power, medical devices, specialties & nanotechnology, food & beverage, industrial, manufacturing, energy, oil & chemical manufacturing industries.
Wastech has experienced engineers for system design, fabrication, installation supervision, start-up assistance and operator training. We are particularly experienced in designing and building complete skid mounted systems for pH adjustment, heavy metals and Fluoride removal, pump lift stations, solvent and chemical collection and delivery, process cooling water, custom filtration, ion exchange and related controls and software. Our experienced team of engineers and supplier partners insure that the solution is on-time and always performs beyond the customer's expectations. Wastech Engineering is a nationally recognized company serving several market segments in the US and abroad with key disciplines in custom design equipment, continuous and after sale support and on-going problem solving skills.
---
To become the premier industrial process system integrator in the field of automated process and environmental solutions for industrial wastewater treatment, chemical transfer, and fluid handling.
---
Wastech's philosophy is based on combining technology and engineering to create economical solutions to benefit our clients without compromising quality or workmanship. We know that everything we accomplish rests on the skills, integrity, commitment, and dedication of our management and employees. We continuously strive to achieve the highest standards of personal and corporate ethics in order to create excellence and success in a dynamic and fast changing global environment.
---
We, at Wastech Controls & Engineering, like other companies employ people for their unique talents and expertise certainly, but often for more intangibles such as chemistry, integrity and a sense of trust, among other criteria. Recognizing that all Engineering outfits refer to the same manuals, so to speak, there are ten key characteristics that distinguish Wastech Controls & Engineering from the pack, namely:
Passion: We do not pursue new business that does not strike a chord with us. We have to be excited and enthused about your company and its future as you are.
Involvement: Our clients rely on us to see and touch a company, not just supply off-the-shelf equipment. They expect us to be hands-on, visible participants who can also listen. We would not have it any other way.
Urgency: We are far removed from the classic mold of passive Engineering companies with big pencils and bigger erasers. We know that 25-plus years of building a business can often be destroyed in a day. A client's needs are immediate – whether they tell us or not.
Proactive not Reactive: We pride ourselves on our ability during the design phase to proactively identify issues, analyze situations and make value-added recommendations before they become problems. Our goal is to supply you with products that help streamline your business and improve efficiency whenever possible.
Problem Solving: With over 25 years of experience, Wastech team's resourceful, inventive and determined approach to problem solving has never diminished. Having a large, full-time staff of talented chemical, mechanical, electrical and controls engineers onboard ensures that you are getting the best support possible. One of our key roles is supporting management with the innovative tools to help resolve and control problems.
Relationships: Our association with clients is grounded in a mutual trust, respect and confidence, all of which foster personal bonds that extend well beyond providing engineering sound design and supplying quality products.
Relevant Experience: Wastech has a long history and specific expertise in bringing the right solution to the table. Often we offer multiple approaches and solutions to a problem along with recommendations so you can make the best decision that is suitable for your company.
Growing with Clients: One of our greatest professional rewards is growing with our clients, helping to add value to their business over the long haul, way after delivering a product or completing a service. The majority of our clients keep returning to Wastech during process expansion and for engineering support.
Significance to the Company: Everyone at Wastech recognizes your importance to our company and your opinion of our products and services which translate to the highest levels of attention as you should expect.
Reputation: Wastech has honed a carefully-built reputation over 25-plus years for quality design and manufacturing, sound support and service, solid judgment, critical thinking and obtaining results. We hold ourselves to the highest standards, but don't take our word for it just ask our clients.