Mail 56 2007
OMEGA™ Neutralization Solutions

Wastech offers a complete family of neutralization solutions.
These include custom designed systems with fabricated tanks and standard designs with molded tanks. Standard OMEGA™ acid waste treatment systems may be ordered for 10 gpm, 15 gpm, 20 gpm, and 30 gpm. Standard control panels for relay control or PLC control are available as separate items for neutralization. The Wastech Zeus™ software package for PLC control is available for single-stage or two-stage neutralization operations.
Please see our OMEGA neutralization system features.
For custom applications, Wastech engineers will work with the customer to develop a specification including mechanical, electrical and control designs. Wastech will select components, provide a layout for the space allowed, and address operational issues. Standard OMEGA™ specifications are available for consulting engineers. Wastech will fabricate special tank configurations up to 1000 gallons in PP or will work with FRP or HDPE fabricators for a custom size. Wastech designs can handle strong acids, concentrated acids, superacids such as Oleum or Chlorosulfonic Acid. Large OMEGA Systems for waste neutralization are available with capacities to 500 gpm.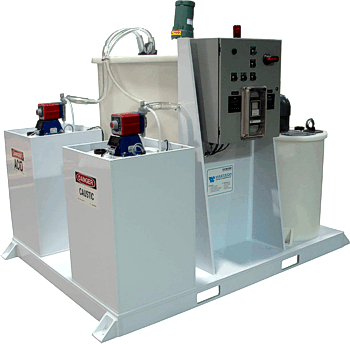 As a waste treatment supplier, Wastech understands how to incorporate the neutralization or pH adjustment step into a complete waste treatment design for fluoride removal and heavy metal precipitation.
Accessories such as flow meter additions, heat exchangers, on-line analytical measurement, communication issues, data logging, redundant sensing, tank storage and level monitoring, wireless communication, actuated valves, Seismic Zone 4 designs, and pumping requirements are all routine changes.

For Assistance with Waste Neutralization

Call us at 818-998-3500 for a telephone presentation, engineering assistance, and a quotation. Using WebEX online teleconferencing, we can define the requirements, show examples of the hardware and other installations, and customize a solution.
Ben Naylor – Application Engineer (ext 227)
Harold Sipe – Senior Application Engineer (ext 224)