Solvent Collection Systems
"The fire department says that we need a solvent collection system.
Where do we go?"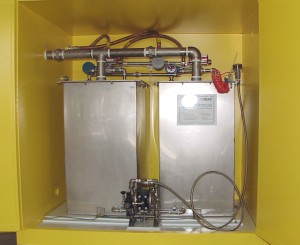 The customer has a number of laboratories where solvents are used. Previous procedures required waste containers to be kept at each location. The fire hazard was obvious, and safety issues demanded another system that eliminated handling and storage in the lab.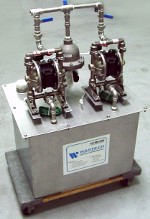 Wastech Controls has provided complete waste treatment systems to university and industrial laboratory installations. These all-stainless-steel systems are rated for Class 1, Div 1 for explosive environments and have proven popular with local fire departments. Each collection system is monitored by a central control panel and displays or communicates data on pump station performance and the volume in the collection tanks. Two collection tanks with automatic change-over capabilities eliminates mistakes and accidents. The tanks are installed in a fire rated enclosure with leak detection and monitoring sensors. Waste is discharged using an air operated pump into the waste hauler's containers.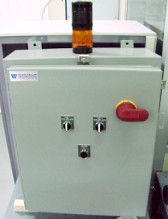 Packaged lift stations are designed for the application in sizes from one gallon to 100 gallons capacity. All units use air operated pumps sized to the application. Pumps, tanks and sensors are stainless steel and can be rated for IS or Class 1, Div 1 applications.
Each system is fully monitored and can offer various communication options including SCADA reporting, PC monitoring or 24/7 beeper response. Central or local control panels are available using PLC or relay logic.