Mail 12 2004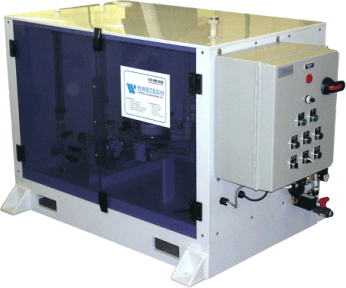 Chemical Dispensing Systems Add Value
When process chemicals need to be dispensed in a plant, engineering for special chemical dispensing systems may be required. Wastech engineers have designed a variety of chemical dispensing systems using PP, PVC, Teflon and stainless steel piping materials. All types of pumps can be used, depending upon the application. Monitoring requirements may include leak detection, access security, flow, pressure, temperature, or other parameters. The enclosure may be thermal plastic or stainless steel in either a cabinet or a pump skid.
The units illustrated above required a proportional pulsed air operated pump responding to a 4-20 mA signal. Air operated pumps are normally on/off devices, so Wastech engineers offered this design to eliminate the need for an expensive SCR or VFD component. Additional components in these cabinets include calibration columns, pulse dampeners, pressure sensors, and filtration canisters.
Remember that Wastech offers experienced process engineers to support your needs. Get Wastech's Paul Nicolas, Herand or Richard involved. By the way, Wastech has just hired Harold Sipe, formerly with George Fischer Heat Exchangers, as a process engineer. Another investment to support the needs of our customers.