Chemical Metering Skids
Metering Pumps, Metering Pump Control,
Metering Pump Skids, Metering Pump Cabinets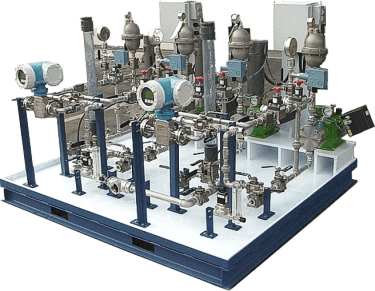 Custom Skid Packages
Wastech Engineering designs and builds custom metering pump skids.

Skids come complete with controls and accessories.

Package is tested and calibrated before shipping.

Contractors avoid multiple deliveries on-site – eliminate lost components.

Startup is immediate.

Wastech engineers supervise the on-site support.

Disputes over responsibility between electrical and mechanical unions is avoided.



A case Study:


"How are we going to build this on-site?"
The contractor knew this pump control design would be a problem. The caustic metering system had to perform from 1 to 40 GPH with accuracy. Normally this would have taken weeks to install on site, with a difficult integration of the control panel and a lengthy calibration and startup procedure. Wastech Controls engineered a complete solution, fabricated it off-site, and delivered it on-time, pretested and ready to operate.
The unit included four DC drive metering pumps with local control panels, calibration columns, pulsation dampeners, pressure regulators, magnetic flow meters, and a NEMA-4X stainless steel remote control panel. The panel included SCR drives, RPM indication, stroke length indication, flow rate indication in GPM, HOA pump control switches, indicator status lights, communications, and numerous alarm conditions.
Standard Metering Packages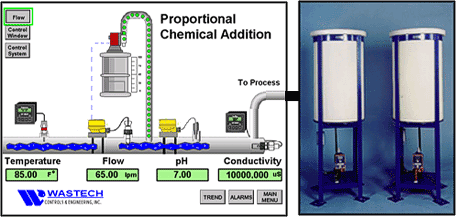 Wastech also produces standard metering packages. See our CDS Chemical Dispense Station data sheet.
High quality workmanship and components.
Compact in size, efficient in design.
Tank construction: PVDF, Polypro, or PE.
Size range: 30 to 100 gallons.
Flow rate: 0.06 GPH to 20 GPH with high degree of accuracy.
Fully automated with low level shutoff.
Easily integrated with other existing equipment.
Adaptable to accept 4-20 mA signal and/or remote ON/OFF.
Pump material construction PVC / Teflon or PP / Teflon / Viton.
Optional mixing capability with multiple level-control.
Low-cost analog pumps with optional level control for automatic operation.
Custom stand design and fabrication including surface finishing & powder coating.
Seismic calculations and drawings provided upon customer's request.
Related Web Pages:
PumpLift Station Control Panels
Acid Waste Neutralization Systems (AWN)
Chemical Metering
Instrumentation Control Panels