Explosion Proof Control Panels & Intrinsically Safe Control Panels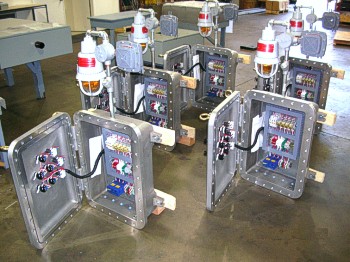 Industrial control panels (ICPs) for hazardous environments are a specialty of Wastech Controls & Engineering Inc. Our experienced engineers will offer you safe and economical solutions for control panels to be used with hazardous locations, including panels with intrinsically safe circuits.
NEMA 7 explosion-proof enclosure.
Explosion Proof Panels may be installed in Class I, II or III, Division 1 Hazardous Locations according to appropriate National Electrical Code (NEC) installation practices. These control panels can consist of a NEMA 7 explosion proof enclosure or a general purpose enclosure with purging / pressurization features.
Nitrogen purged panels.
Industrial Control Panels with intrinsically safe circuits may be connected to intrinsically safe components (such as pumps, sensors, alarm indicators, mixers, etc.), but the panels MUST NOT be installed in a hazardous location. These panels provide low energy power and signals through special intrinsically safe barriers into the hazardous area. Wiring must be routed in separate raceways and segregated from all power and other circuits. If the wiring is not designed correctly, a fire or explosion could occur. Special fittings are installed in the panel that either prevent the passage of hot gases in the event of an explosion, or the passage of hazardous gases, dust or fibers that could be ignited by the electrical circuits in the panel. These panels may be UL listed under the UL913 category.
The National Electric Code (NEC) explains in detail the requirements for installation of wiring and electrical equipment in hazardous locations. A qualified electrician should install all electrical systems. The appropriate NEC articles along with local and insurance regulations should be consulted by the user.
Clients will benefit from Wastech's software experience whether or not control panels are explosion proof or intrinsically safe. Wastech's experience includes Human Machine Interface (HMI) & Supervisory Control & Data Acquisition (SCADA) Systems, as documented by these PLC, HMI and SCADA Systems links.