Fix Your Problem Control Loops
Update or Change PLC Programming
Add Alarms with Beeper or Email Notification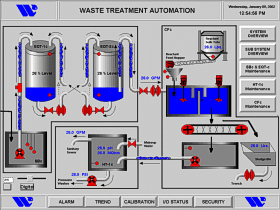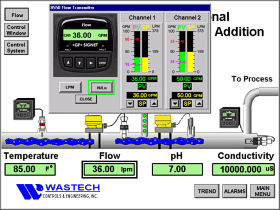 Wastech Controls & Engineering is Your Local Source
for Experienced Control and Process Engineers.
Wastech Controls & Engineering has been supplying automation solutions since 1987 as a control system integrator, UL panel shop and process expert. Our engineers are experienced in electrical and mechanical systems, process communication networks, liquid dispensing, mixing and batching, and industrial waste treatment. We are automation specialists. Whether your project is large or small, our engineers have the knowledge and capability to design an innovative, cost effective solution that will best suit your operation.
Loop Tuning and Sensor/Actuated Valve Integration
PID loop tuning is our specialty. Let us evaluate your process and eliminate those costly control failures. Our technicians can get your flow, pressure or temperature control loop working in a few hours. We are also analytical experts for pH, density and conductivity applications.

Industrial Communication Networks
LonWorks, BACnet, Ethernet/IP, ControlNet, DeviceNet, Modbus, Modbus TCP, Profibus, and other communication network layout design (wire, wireless, and fiber-optics) and data interface integration.

PLC, DDC & Control Hardware Programming
Ladder logic, function block diagram, sequential function chart, structure text, instruction list, and/or visual basic/C++ programming for various PLC, DDC & control hardware manufacturers (Allen Bradley, Square-D/Modicon, GE Fanuc, Siemens, and others).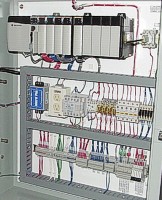 Operator Interface/HMI Software Programming
Graphical animation of process data, alarming, data logging, and reports in color or black and white on various computers and hardware platforms.

U.L. Control Panels
Complete panel design and fabrication service. NEMA and IEC rated panels with PLC, VFD, and operator interfaces.

Current Customers include...
3M Pharmaceutical, Nestle, L3 Communications, PortionPak, Chatsworth Products, Boeing, City of Los Angeles and other cities, DWP, Los Angeles County, many municipal water districts, INTEL, Bechtel, Intel, Motorola, IBM, Applied Materials, UCSB, Arizona State University, and more.
Click on the yellow button below, and we will assess your situation for FREE and present you with a proposal for an immediate solution. For our local customers, we will not charge travel time. Depending upon your location, our minimum for on-site support can be as low as one hour.

Yes, I am interested in your engineering support.
Please have an engineer call to arrange a visit.