Mail 27 2005
Custom Skids with
Packaged Process Solutions
Wastech engineers understand processes. For example, they can design a skid for a hot water loop, a filtration system, a waste treatment process, or a boiler package. Advantages to the contractor or owner are faster project design, one-party responsibility for execution, higher-quality fabrication, and a complete solution that is assembled and tested at the factory for rapid startup.
Examples of Skid-based Solutions

The skids shown above were manufactured for projects that include a semiconductor plant under construction in Asia, an automotive supplier in the Midwest, and a pharmaceutical company in California. In each case, the schedule was tight, and local labor was an issue. Often the consulting engineering company insists on a skid design. The semiconductor plant demanded an immediate quote with expedited drawings. Coordination required weekly conference updates and approvals. Purchasing releases were phased to allow faster delivery. Negotiations between the consulting engineers, on-site plant engineers, California based end-user engineers, and Wastech were sometimes intense.
What You Can Expect from a Wastech Skid
Skids manufactured by Wastech can be made of powder coated steel or fabricated polypropylene (PP). All control components will be installed in Wastech-supplied electrical enclosures. Software and wiring will be tested at Wastech. Hydraulic tests will be conducted on piping at Wastech to eliminate leaks and insure performance. Skids with pipes as large as 10" are common. All phases of the construction and testing will be documented in the form of digital pictures, including final crating and loading, to eliminate possible future arguments. Finally, Wastech engineers will travel to the jobsite (even to Asia) to inspect the installation and complete the startup.
For more information on skid-based solutions, click on these links:
Packaged Pump Skids
Chemical Metering Skids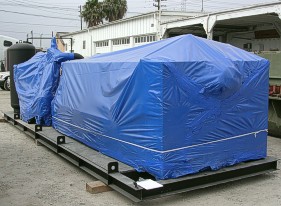 A completed 6.8 million BTU/HR boiler system on its way to the customer.