Automated Industrial Waste Treatment Systems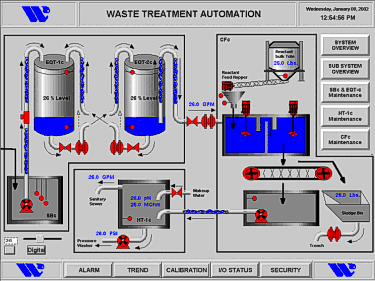 Wastech Engineering manufactures complete waste treatment systems designed to be operated by non-engineering operators. Displays have graphical interfaces with alarm reporting by email alerts, beeper or cell phone, or local indication. Data logging is offered using various means from strip chart or circular paper recorders to data loggers, PLC software or IP internet access. Our systems are skid mounted (if size allows), our controls are easy to use and understand, and many of our processes are fully automated. Whether water recycling, waste water separation, heavy metal removal, pH neutralization, or simple monitoring, Wastech has a solution.
Wastech also offers standard panels for pH monitoring, pH recording and simple instrument mounting. Wastech has standard panels for conductivity, DO, dechlorination or any analytical measurement.
If custom panels or PLC programming are needed, Wastech Engineering's electrical and control engineers will write PLC or SCADA software on many platforms such as Rockwell Automation or Siemens. Wastech will custom design touchscreens and display software for any application. Wastech has the experience to find innovative solutions that are cost effective and customized to your needs.