Control Panels for Pump Lift Stations
Industrial Simplex Pump Control Panel


IPCP-SP-015

Industrial Duplex Pump Control Panel
IPCP-DP-015
Pump lift stations come in all shapes and flavors; however, they all require a control panel -- and control panel requirements vary from customer to customer.
For example, many pump lift stations only come with a junction or J box mounted on top of the tank. Most of the time, the customer does not want the controls in the sump, but instead wants to mount a panel on a wall nearby.
That's where Wastech Controls comes in, because we offer custom as well as standard control panels to meet customer requirements. For custom panels, special features may be required:
Alarms, horns or flashing lights.

Alarms communicated via email or to a beeper.

Manual controls at the panel or a lockout to prevent local operation.

Level sensor indication at the panel.

A run-time or elapsed time meter.

A level level switch or transmitter input.

Lead / lag control or alternating relays for duplex stations
Industrial Simplex Pump Control Panel
(IPCP-SP Series, 1.5 HP to 5 HP)
Industrial Duplex Control Panel
(IPCP-DP Series, 1.5 HP to 5 HP)
Also take a look at Wastech's standard control panels for 110 VAC single-phase (our economy panels) and 230/460 VAC three-phase (our industrial panels). These cost-effective panels can be sized to any existing pump lift station, whether for sanitary or industrial waste. UL-rated panels are also available. Pricing is net to you, FOB our factory.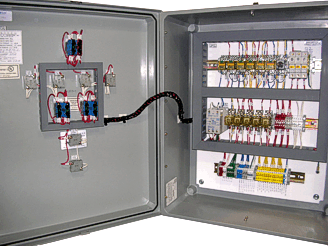 Professionally Wired Control Panel
| | |
| --- | --- |
| | |
| Solvent Duplex Station | Pump-Up Station with Mounted Control Panel |
Don't forget complete custom panels and pump lift stations like the ones above for the customer who wants everything.
On your next pumping project, call one of us 818-998-3500 for engineering assistance and a quotation:
Ben Naylor – Application Engineer (ext 227)
Harold Sipe – Senior Application Engineer (ext 224)