2000-Gallon Pump Lift Station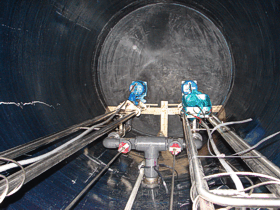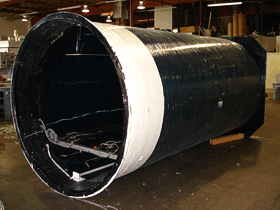 Wastech also builds large custom pump lift stations (PLS) in addition to our standard sizes.
A Midwest food processing plant had to treat their industrial effluent for low pH. Large volumes came from three different directions into a below-grade collection pit. Wastech designed a 2000-gallon PLS package.
Cylindrical fiberglass tanks are always used for in-the-ground applications with larger pumps. The pumps lift the waste into a large equalization tank, and from there the waste is treated in a 120 gpm neutralization system. The pumps are mounted on rails with fittings similar to municipal sewage lift stations. The rails allow the pump to be disconnected from the discharge line and lifted to the surface without "enclosed spaces" procedures. The traffic plate is galvanized metal with a trap door.
One interesting feature was the "sack filter" mounted into the PLS. The sack filter will screen from 12 mm down to 3 mm with a disposable sack. Each sack is mounted to a stainless steel nose box with handles to facilitate removal.
| | |
| --- | --- |
| | |
| Fiberglass tank | Sack filters |
The lift station was delivered completely assembled with a remote control panel and mounted junction boxes. The contractor was thrilled.

For Assistance
Call us 818-998-3500 for a telephone presentation, engineering assistance, and a quotation. Using WebEX online teleconferencing, we can define the opportunity, show examples of the hardware and other installed installations, and customize a pump lift station solution.
Ben Naylor – Application Engineer (ext 227)
Harold Sipe – Senior Application Engineer (ext 224)
For more information on Wastech's pump lift stations, click on the links below:
Pump Lift Station Control Panels
Pump Skids for Cooling and Metering
Customized Pump Stations
Chemical Metering Tanks