Mail 49 2007
Control Panel UPDATE:
Recording Devices & Data Logging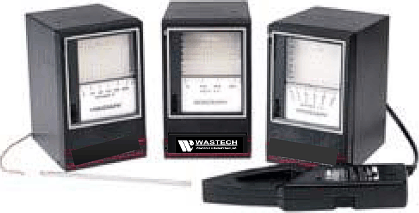 Wastech 30-day paper strip chart recorders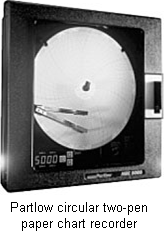 Ink and Paper Recorders
Traditionally data recording has been done with ink pens on paper using either a strip chart recorder or a circular chart recorder. These mechanical devices are still requested, and Wastech provides them mounted in a panel in either a NEMA-4 enclosure (water and spray protected for outdoors or wet environments) or a NEMA-12 enclosure (for protected applications inside a building). See Wastech's Strip Chart Recorder Series 800.
The problem with these mechanical devices is their fragile mechanisms. If the paper is changed carelessly and the pen mechanism is damaged, the unit must be returned to the factory. If a pen is bent, it may fail to write on the paper. Pens are consumable and must be replaced when ink is consumed. The recorders also require a fairly large enclosure and special wiring. The strip chart recorder is not UL or NEMA-4 rated, and an additional cover is needed for outdoor applications.
Paperless Recorders & Digital Data Loggers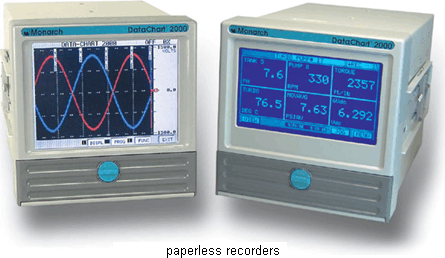 A new option is the paperless recorder with a video display of 1, 2 or up to 12 channels. These are slick units with many options and features. These include relay outputs for control, a compact flash card drive for data logging, Ethernet communication, monochrome or color displays, special software, DIN rail mounting, and a USB port. Pricing has come down to within $500 of the circular paper recorders.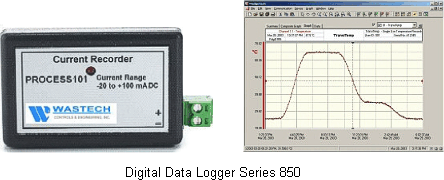 If presentation of the data at the enclosure is not needed for the operator, new data logging hardware offers an economical solution. The sensor inputs, power and data logging module are mounted in the field in a much smaller enclosure, and the data can be retrieved at the box or inside the office at a PC. Data can also be communicated over the plant SCADA system. These units are inexpensive and versatile. They are available in 1-channel, 6-channel or 12-channel designs. Each channel is rated for 32,767 readings, and based upon the recording internal (every one second up to once every 10 minutes), can collect data continuously for days or years. The user defines the engineering units. The data can be date stamped and is compliant with the new 21CFR Part 11 FDA regulation for electronic data recording. If the data logger is filled, instead of losing the oldest data, the system reconfigures itself for a longer recording interval, thereby keeping the first and last data points. See Wastech's Digital Data Logger Series 850.
When placed in an enclosure with communication cable or a transfer port, the customer has a complete solution. The hardware comes with software for graphing and data reports. Call us for a quotation with the recorder of your choice

For Assistance with Data Recorders & Data Loggers
Wastech can provide a complete data recording solutions. Call us at 818-998-3500 for a telephone consultation, engineering assistance, and a quotation. Using WebEX online teleconferencing, we can define the requirements, show examples of the hardware and other installations, and customize a solution.
Ben Naylor – Application Engineer (ext 227)
Harold Sipe – Senior Application Engineer (ext 224)