Supervisory Control & Data Acquisition (SCADA) for Remote Terminal Unit (RTU) & PLC Systems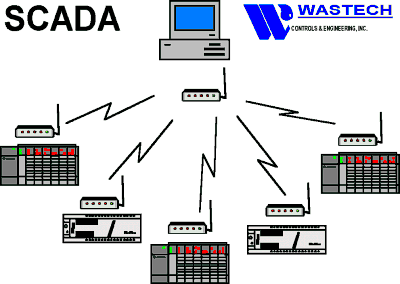 Wireless communications (spread spectrum radio) site survey.

Leased line, fiber optics, and satellite communication support.

Software integration for various HMI / SCADA software vendors.

Windows CE / NT / 2000 / XT OS platform support.

Embeded displays and PC hardware support.

Graphical animation of process data.

Calibration, I/O status, communication status, and recipe control screens.

Multiple security levels for screens and displays.

Process data entry (process and alarm data setpoints).

Alarm summary and alarm logging (DBF, ODBC).

Messaging (pager, fax, e-mail, phone, audio & visual alarm annunciation).

Trending of process data.

Data logging of process data (DBF, ODBC).

VB & VBA programming (interface to 3rd party windows applications).

Client-server configuration (thin client support).

Multimedia interface (audio / video).

Internet access and web server applications.

Industrial network communication for multi-vendor support with OPC
(Ethernet, ControlNet, DeviceNet, Modbus, Profibus, others).