Wastech Now Leading Supplier of Process Chilled Water Systems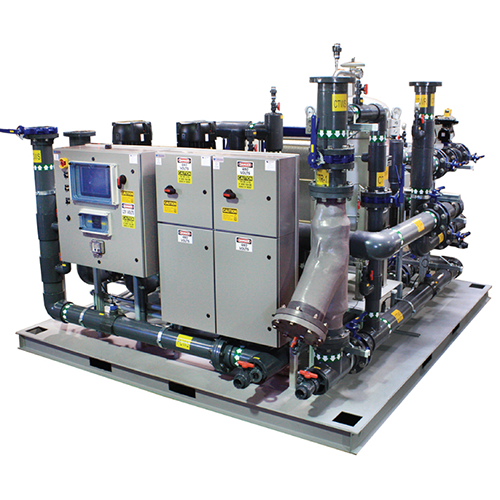 Process Chilled Water Systems (PCW) from Wastech Controls & Engineering, Inc. enable efficient and stable use of water-cooled machines, equipment and instruments by circulating filtered process water at a consistent temperature and pressure to the point of use and back.

Many applications within the semiconductor, pharmaceutical, solar, and microelectronics industries utilize process tools that generate heat during use. During operation, this heat must be continuously removed. For facilities with existing cooling water, installing a Wastech PCW skid is a cost effective alternative to the purchase of costly additional chillers, plumbing and construction.

Wastech's Process Chilled Water Systems solve the problem of operating a tool or tools that require unique temperatures or pressures by providing a secondary loop of clean, filtered water independent of the main loop. This creates an economic turnkey alternative with increased flexibility and control.
Wastech's Process Chilled Water Systems continuously remove process heat using plate and frame heat exchangers. The circulated cooling water is also filtered with high-quality bag filters. PCW Systems are able to maintain a consistent pressure through precise control of the process pumps located on the system skid.

Wastech designs and fabricates both closed loop and open loop configurations with high quality equipment, high efficiency pumps and VFD's. As with all of Wastech's industrial wastewater treatment systems, a UL-certified, PLC-based industrial control panel provides precise process control through a full color HMI touchscreen.

More About Wastech


Wastech Controls and Engineering, Inc. is a leader in process integration, engineering and manufacturing of fully automated industrial process systems. Wastech's core strengths are its people and their experience in process oriented industries. Wastech directly employs all the engineering disciplines required to thoroughly design and commission the systems it develops. Our process, mechanical, electrical and control system engineers come from diverse backgrounds with a range of experience from facility design, manufacturing and construction that enable us to tailor our systems to meet the specific needs of our clients.


Wastech's highly skilled fabricators and assemblers are competent in welding all types of plastic, assembly of piping and equipment, and installation of analytical instruments. Our panel fabrication shop is certified for UL 508A and UL 698A industrial control panels, and is unrivaled in build quality. Wastech is a certified member of the Control Systems Integrators Association (CSIA). Wastech has an unparalleled and distinguished history of customer service and support for many years following systems start and commissioning. Wastech is committed to partnering with our customers durin
g the sales, manufacturing and after sales cycles.


---
Check out Wastech's complete line of industrial engineered process systems
---