Wastech Develops True Zero Liquid Discharge (ZLD) Solution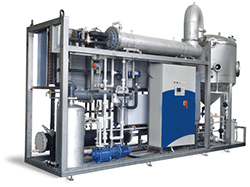 Pharmaceutical, semiconductor, solar and biotech are only a few of the industries Wastech serves affected by increasing water costs and penalties. To avoid paying fines, "heavy users" must find economical solutions to decrease water usage.
In many cases, the answer is a Zero Liquid Discharge (ZLD) process solution, which can be accomplished by installing a Vacuum Distillation Evaporator System in tandem with an Ion Exchange System from Wastech Controls & Engineering. Moving to a Zero Liquid Discharge solution will greatly reduce operating costs by minimizing wastewater discharge.
Vacuum Distillation Evaporators
Evaporation is the science of transforming a liquid into gas. It is a slow process that occurs naturally. A Wastech vacuum distillation evaporator accelerates the evaporation process by separating water from salts and liquids at low boiling points without any filtration media or membranes. The result is good quality distillate that can be safely reused or recycled back into a plant's processes.
Wastech offers three different types of VDEs. The correct VDE system type is determined based on the flowrate and wastewater composition of the plant - a Wastech Application Engineer will provide you with a process assessment and assist you in selecting the correct model. Each type of system supplied by Wastech creates an efficient water recycling solution with ROI often seen by customers within 12 to 24 months.
Wastech skid-mounted Vacuum Distillation Evaporators are designed for easy installation. They are shipped pre-programmed, fully tested with PLC-based industrial control panel and full color HMI that controls all aspects of operation.


Ion Exchange Systems
Ion exchange processes are used in most industrial applications for removal of undesirable elements from wastewater based streams. Wastech also integrates Ion Exchange systems as the first step in a true Zero Liquid Discharge process solution. Ion exchange resins are designated as either cation resins, which remove positively charged components such as metallic components, or anion resins that remove negatively charged elements. There are also mixed bed ion exchange systems that remove a wide variety of other constituents.
To cater to specific industrial process requirements, various ion exchange resins have been developed over time to selectively remove specific anions or cations. The general category of these resins are designated weak acid resins, strong acid resins, weak base resins, and strong base resins. The incoming pH of the fluid can greatly affect the resin's ability to selectively remove the desired component. An optimum pH level increases the performance efficiency of the resin.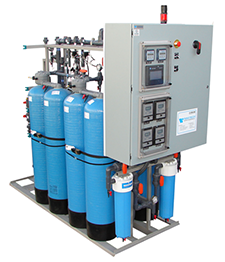 If needed, Wastech also offers a wide range of standard batch and continuous pH adjustment systems designed specifically as pre-treatment for ion exchange. Ion exchange systems require a pressurized line for the inlet to the ion exchange vessels as there is considerable pressure drop through the beds. In addition to Wastech's state of the art pH adjustment system software, Wastech's systems incorporate high efficiency discharge pumps with control of the discharge pressure to the ion exchange system. This allows for complete process integration; Wastech's experienced controls engineering team ensure that each system communicates seamlessly with the others before the equipment ships to your facility.

For more information on ZLD systems, or any other industrial wastewater treatment system Wastech offers, email Sales or call (818) 998-3500.
More About Wastech
Wastech Controls and Engineering, Inc. is a leader in process integration, engineering and manufacturing of fully automated industrial process systems. Wastech's core strengths are its people and their experience in process oriented industries. Wastech directly employs all the engineering disciplines required to thoroughly design and commission the systems it develops. Our process, mechanical, electrical and control system engineers come from diverse backgrounds with a range of experience from facility design, manufacturing and construction that enable us to tailor our systems to meet the specific needs of our clients.
Wastech's highly skilled fabricators and assemblers are competent in welding all types of plastic, assembly of piping and equipment, and installation of analytical instruments. Our panel fabrication shop is certified for UL 508A and UL 698A industrial control panels, and is unrivaled in build quality. Wastech is a certified member of the Control Systems Integrators Association (CSIA). Wastech has an unparalleled and distinguished history of customer service and support for many years following systems start and commissioning. Wastech is committed to partnering with our customers durin
g the sales, manufacturing and after sales cycles.
Check out Wastech's complete line of industrial engineered process systems