How to Choose a pH Adjustment System

Many industrial processes produce wastewater that is either too acidic or too alkaline to be discharged into the public sewer. In such cases, a low cost, reliable pH adjustment solution like the fully automated, skid mounted systems offered by Wastech Controls & Engineering could bring the solution to your doorstep. Wastech's pre-packaged pH Adjustment Systems treat a wide variety of industrial waste streams and are configured at the factory to neutralize and automatically adjust the pH of your wastewater, greatly reducing labor costs, eliminating accidents and potential illegal discharge violations. Simply put, your system is engineered to pump, measure, treat, neutralize and discharge your wastewater so you have peace of mind.
The first step is deciding which pH adjustment system you need for your process. A multitude of customizable options coupled with the fact that no two wastewater streams are exactly alike can make the selection process overwhelming, even for those with manufacturing experience. Wastech has simplified this process with its new pH Adjustment Matrix. This matrix was designed by Wastech Application Engineers to assist you in the selection process and to provide you with general specifications on the system you will need.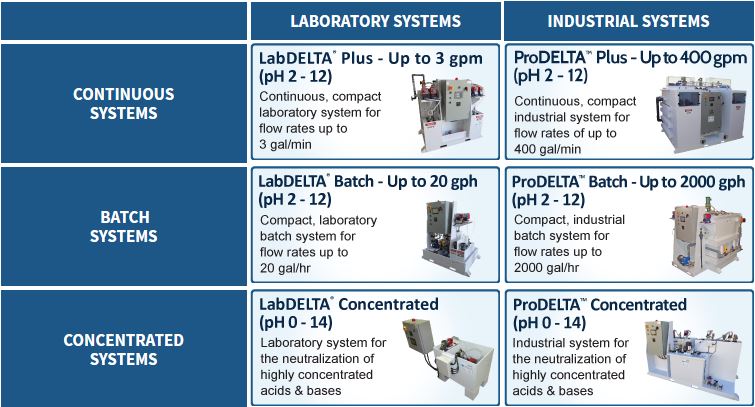 Continuous pH Adjustment Systems

Wastech's Continuous series of pH neutralization systems are designed to treat continuous flows of wastewater. A continuous design is recommended for higher flow rates (10-400+ GPM). Wastech's standard continuous pH systems are 2-stage systems with 2 reaction tanks for active pH adjustment followed by a third monitoring tank to ensure the exiting wastewater is within dischargeable pH limits. Each reaction tank is equipped with a mixer to constantly agitate the wastewater while metering pumps inject neutralizing chemicals directly into the tanks. The 2-stage design offers redundancy, allowing a single tank to handle pH adjustment if the other were to encounter a fault condition or be taken offline for maintenance purposes.

Batch pH Adjustment Systems

Wastech's Batch series of pH neutralization systems are designed to treat wastewater in batches. A batch design is recommended for relatively low (10-20 GPM), intermittent flows. Wastewater enters a holding tank where a specific volume is allowed to accumulate before being transferred to a reaction tank. In the reaction tank a mixer is used to constantly agitate the wastewater while neutralizing chemicals are added to adjust the pH to within dischargeable limits. Once the desired pH is attained, the system discharges the neutralized wastewater to the sewer.

Concentrated Systems

Wastech's Concentrated Systems, also available in batch or continuous configurations, are designed to neutralize highly-concentrated wastewater streams that are either highly acidic or highly alkaline. Both types of systems automatically and safely treat process flows with pH of 0 - 14.
An important note about "Hybrid" pH Systems
Whether ordering a Wastech pH adjustment system or not, beware of so-called "hybrid" systems, that attempt to eliminate important neutralization steps in an effort to reduce cost.
These systems utilize a re-circulation pump and inject treatment chemicals into a re-circulation line rather than directly into the reaction tank. Wastech no longer designs these systems, as experience has shown them to have significant drawbacks, including the following:
A continuously operating re-circulation pump is simply another piece of equipment that will wear and require replacement.

A flow sensor for proof of flow to enable chemical injection adds another instrument to the system that is prone to fouling and malfunction.

Often encountered in the industry, injection of both acid and caustic into the same line can result in accidental mixing that causes system piping to melt.

Pressurized re-circulation piping is an additional point of leakage should a crack develop.


---
Placing Your Order
All customers have unique requirements and Wastech's engineers are experts in customization. Contact Wastech today to discuss your process needs and allow their experienced Application Engineers to assist you with what type of system will best suit your needs. Wastech engineers have the experience to ask the right questions and gain a full understanding of your waste stream, enabling them to offer you the most reliable and cost effective means to treat your wastewater.
Need a custom pH system? Wastech has been manufacturing custom systems for over 26 years. You will receive a quality, pre-tested, and startup-ready system to your facility's front door. Wastech will also be there to support you during installation, commissioning, training, and operation.
To speak with an Application Engineer about a solution to your application today, This email address is being protected from spambots. You need JavaScript enabled to view it.or call (818) 998-3500

[Download a copy of this pH Adjustment System Guide]
More About Wastech
Wastech Controls and Engineering, Inc. is a leader in process integration, engineering and manufacturing of fully automated industrial process systems. Wastech's core strengths are its people and their experience in process oriented industries. Wastech directly employs all the engineering disciplines required to thoroughly design and commission the systems it develops. Our process, mechanical, electrical and control system engineers come from diverse backgrounds with a range of experience from facility design, manufacturing and construction that enable us to tailor our systems to meet the specific needs of our clients.
Wastech's highly skilled fabricators and assemblers are competent in welding all types of plastic, assembly of piping and equipment, and installation of analytical instruments. Our panel fabrication shop is certified for UL 508A and UL 698A industrial control panels, and is unrivaled in build quality. Wastech is a certified member of the Control Systems Integrators Association (CSIA). Wastech has an unparalleled and distinguished history of customer service and support for many years following systems start and commissioning. Wastech is committed to partnering with our customers durin
g the sales, manufacturing and after sales cycles.
Check out Wastech's complete line of industrial engineered process systems