Custom Chemical Dispense Systems from Wastech

For processes that require precise and complex chemical dispense solutions, Wastech's large in house team of engineers has the experience and skill set required to design and manufacture a fully automated packaged solution tailored specifically to your unique application.

Custom chemical injection, mixing or blending systems are required when process chemicals need to be dispensed in sequencing order, precision flow, or both into process mixing tanks or piping manifolds.

Wastech's team of engineers can help you design a custom chemical dispense system to fit your needs. Systems can be provided within a custom fabricated thermoplastic or stainless steel cabinet for additional safety and protection. Systems can be provided with either a double-contained chemical supply tank or as a metering pump skid only. These systems use high quality corrosion-resistant metering pumps to inject chemicals into a process tank or piping manifold.
Standard System Features



UL-Listed control panel

NEMA 4 powder coated steel enclosure

Relay or PLC-based control system

Metering pumps for precise chemical dosing

Isolation valves for each metering pump

Double containment for systems with holding tanks

Run permissive for remote enable/disable

Seismic tie-down brackets
Optional System Features

Metering pump enclosure for spray protection

Proportional injection based on flow

Backpressure regulator

Pressure relief valve for over-pressurization protection

Pulsation dampener for pump discharge

Calibration column for pump calibration

PVDF, PFA, and PTFE piping and tubing
System Examples

Sulfuric Acid Chemical Dispense System:




Customer wanted a safe and effective method of injecting 93% sulfuric acid into an air stripper feed stream to reduce the negative effects of scaling and the excessive maintenance hours produced.

Wastech was able to meet the client's request by providing a fully custom engineered and automated PLC based chemical injection system housed in a chemically resistant polypropylene cabinet to provide operator splash protection from the potential hazards of sulfuric acid burns. Wastech employed the use of inline pH measurement and injection into PVDF piping to provide compatibility with the sulfuric acid stream.
Automated Bulk Tote Switchover with Metering Pump Cabinet: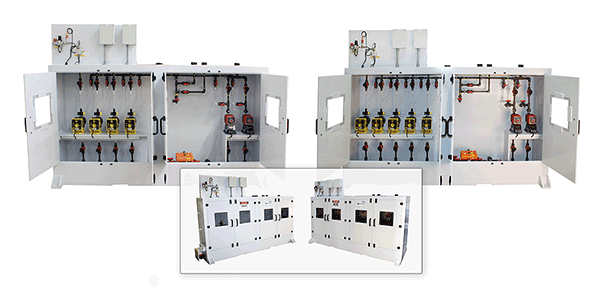 Customer turned to Wastech to supply an automated bulk chemical delivery system that would inject chemical into various processes within the facility from several storage totes. The chemical dispense system detects the liquid level within supply totes and determines when to automatically switch totes in order to ensure continuous operation of facility processes, eliminating downtime due to chemical tote replacement.

Wastech's customized control system was designed to communicate with the facility management system to alert operators to replace and refill the empty chemical supply totes prior to chemical supply failures which can lead to process error. The metering pumps where installed within a custom welded polypropylene enclosure fitted with leak detection to meet stringent secondary containment requirements.
Extensive Controls & Monitoring Packages

Monitoring requirements available include leak detection, access security, flow, pressure, and temperature. System enclosures may be constructed from thermal plastic or stainless steel, and can be encased in a cabinet or mounted directly on the pump skid. Flow meters are wet calibrated and I/O tested. In addition, Wastech chemical dispense units come standard with an intuitive and user-friendly HMI package. Some of the standard features include:
Main screen for easy navigation to system status and settings screens

Status screens covering all equipment and instruments installed on the system

Standard color coding for equipment status (i.e. GREEN for ON, RED for fault, etc.)

Settings screens covering all user-adjustable parameters on the system

Hand-Off-Auto (HOA) screens to manually control equipment when performing maintenance and troubleshooting

Multi-level login and password protection to prevent inadvertent changes to critical system settings

Alarm and alarm history screens with date and time stamp for each alarm

Trending and data logging for batch and continuous pH, fluoride, and heavy metal systems

Calibration toggle buttons to direct PLC bypass sensor measurements during calibration

Ethernet connection for remote system monitoring and logging
More About Wastech
Wastech Controls and Engineering, Inc. is a leader in process integration, engineering and manufacturing of fully automated industrial process systems. Wastech's core strengths are its people and their experience in process oriented industries. Wastech directly employs all the engineering disciplines required to thoroughly design and commission the systems it develops. Our process, mechanical, electrical and control system engineers come from diverse backgrounds with a range of experience from facility design, manufacturing and construction that enable us to tailor our systems to meet the specific needs of our clients.
Wastech's highly skilled fabricators and assemblers are competent in welding all types of plastic, assembly of piping and equipment, and installation of analytical instruments. Our panel fabrication shop is certified for UL 508A and UL 698A industrial control panels, and is unrivaled in build quality. Wastech is a certified member of the Control Systems Integrators Association (CSIA). Wastech has an unparalleled and distinguished history of customer service and support for many years following systems start and commissioning. Wastech is committed to partnering with our customers durin
g the sales, manufacturing and after sales cycles.
Check out Wastech's complete line of industrial engineered process systems