Vertical Pump Lift Stations

Vertical Pump Lift Stations (VPLS) from Wastech are one of eight types of pump lift stations Wastech has developed. The easy to operate and cost-effective vertical pump lift station is ideal for transferring water, chemicals and wastewater when a gravity drain is impractical.
The following specifications are available for Wastech's pre-packaged Vertical Pump Lift Stations:
Simplex (one pump) or duplex (two pumps) configurations

Motor lockable disconnects on each pump to allow for independent maintenance

Multipoint level switch assembly with digital level display

Check valves on each pump to prevent liquid back flow into tank

HIgh level switch to activate high level alarm

UL-Listed, Wastech IPCP series industrial control panel
Standard features include a fabricated polyproylene lid and a molded polyethylene tank available in 3 standard sizes: 16, 32, and 56 gallons.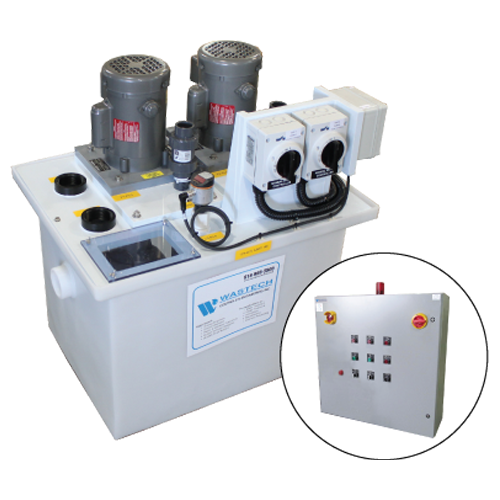 As with all of Wastech's pump lift stations, Vertical Pump Lift Stations are factory tested ensuring quick and easy installation. There are two 2" FNPT top mounts for inlet and vent connections. A 4" x 6" view window is used for maintenance access to the unit.
[Download the Vertical Pump Lift Station Data Sheet]
If required, Wastech's in-house engineering department can design custom pump lift stations to your unique specifications. If your facility has specific industrial processes, specifications or requirements such as larger pumps or tank sizes, custom configurations are available. Wastech's application engineers will help pinpoint the nature of your process and help you design the custom Vertical Pump Lift Station required by for your facility.
Standard and custom Vertical Pump Lift Stations have optional features available for customers:
Remote control panel via 6 ft. pre-wired flex cable

Discharge manifold with isolation ball valves

Seismic tie downs

PP and PVDF pumps and fittings

Fabricated polypropylene double containment tank with float leak switch

Side inlet connection
More About Wastech
Wastech Controls and Engineering, Inc. is a leader in process integration, engineering and manufacturing of fully automated industrial process systems. Wastech's core strengths are its people and their experience in process oriented industries. Wastech directly employs all the engineering disciplines required to thoroughly design and commission the systems it develops. Our process, mechanical, electrical and control system engineers come from diverse backgrounds with a range of experience from facility design, manufacturing and construction that enable us to tailor our systems to meet the specific needs of our clients.
Wastech's highly skilled fabricators and assemblers are competent in welding all types of plastic, assembly of piping and equipment, and installation of analytical instruments. Our panel fabrication shop is certified for UL 508A and UL 698A industrial control panels, and is unrivaled in build quality. Wastech is a certified member of the Control Systems Integrators Association (CSIA). Wastech has an unparalleled and distinguished history of customer service and support for many years following systems start and commissioning. Wastech is committed to partnering with our customers durin
g the sales, manufacturing and after sales cycles.
Check out Wastech's complete line of industrial engineered process systems
For more information about Wastech's Vertical Pump Lift Stations, or any other industrial wastewater treatment system Wastech offers, please call (818) 998-3500 or email us at

This email address is being protected from spambots. You need JavaScript enabled to view it.

.