Solvent Pump Lift Stations

Wastech's Solvent Pump Lift Stations (SPLS) are designed to operate similarly to its Air Operated Pump Lift Stations. The difference is SPLS are tailored to handle volatile hydrocarbon solutions, solvents and flammables when a gravity drain is not practical.

The stainless steel design of Solvent Pump Lift Stations enables the safe transfer of hydrocarbon solutions in explosive environments. Fabrication using levels switches and pump solenoid valves ensures the safe handling of solvents and prevention of explosions. Standard features of SPLS include:
Simplex (one pump) or duplex (two pumps) configuration

Lift station rated for transfer and storage of Group D solvents and Class 1 Division 1 hazardous environments

316 stainless steel tank, piping and valves for corrosion resistance

316 stainless steel intrinsically safe multipoint float level switch assembly

Wastech indutrial IAPCP control panel with 2 purge

High level switch to activate high level alarm

Hatch for maintenance access

Seismic tie-downs

Grounding lug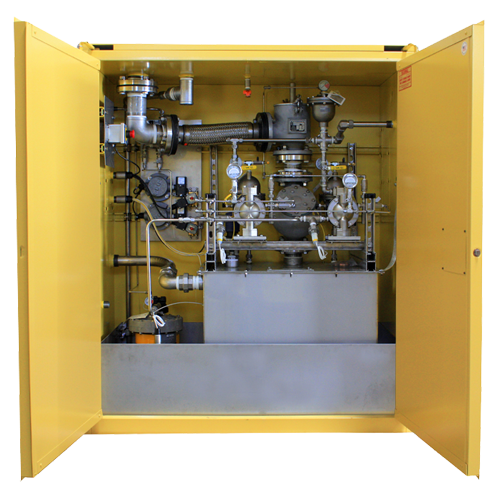 Solvent pump lift stations are fabricated with 316 stainless steel tanks in standard 5, 15, 30, 60, 100 gallon size tanks options. Custom sized tanks are available for facilities with special requirements. Stainless steel lids, piping and valves are also standard to prevent corrosion.

Two 2" FNPT top mounts for inlet and vent connection are available for sizes larger than 5 gallons. 1" top mount connections are used for a 5 gallon tank.
[Download the Solvent Pump Lift Station Data Sheet]
Optional features for pre-packaged standard systems and customized systems include:

316 stainless steel double containment tank with float leak switch


Pressure relief valve downstream of pumps to prevent system piping overpressure

Pulsation dampener with Teflon Diaphragm on discharge line for simplex configurations or on common discharge line for duplex configurations

Side inlet connection

Fire rated cabinets and custom enclosures
More About Wastech
Wastech Controls and Engineering, Inc. is a leader in process integration, engineering and manufacturing of fully automated industrial process systems. Wastech's core strengths are its people and their experience in process oriented industries. Wastech directly employs all the engineering disciplines required to thoroughly design and commission the systems it develops. Our process, mechanical, electrical and control system engineers come from diverse backgrounds with a range of experience from facility design, manufacturing and construction that enable us to tailor our systems to meet the specific needs of our clients.
Wastech's highly skilled fabricators and assemblers are competent in welding all types of plastic, assembly of piping and equipment, and installation of analytical instruments. Our panel fabrication shop is certified for UL 508A and UL 698A industrial control panels, and is unrivaled in build quality. Wastech is a certified member of the Control Systems Integrators Association (CSIA). Wastech has an unparalleled and distinguished history of customer service and support for many years following systems start and commissioning. Wastech is committed to partnering with our customers durin
g the sales, manufacturing and after sales cycles.
Check out Wastech's complete line of industrial engineered process systems
For more information about Wastech's Solvent Pump Lift Stations, or any other industrial wastewater treatment system Wastech offers, please call (818) 998-3500 or email us at

This email address is being protected from spambots. You need JavaScript enabled to view it.

.