Fiberglass Pump Lift Stations

Application processes common in the food and beverage industry include equipment flushing and floor drains. These processes discharge high volumes of wastewater that are transported via gravity drains located throughout the facility. Wastech's Fiberglass Pump Lift Stations (FRPLS) are the solution.
Gravity drains in multiple locations throughout the facility allow wastewater to accumulate into a below grade sump. Wastech's Fiberglass Pump Lift Stations are designed for below grade installation via included submersible sump pumps which are installed on guide rails for easy maintenance.
Fiberglass Pump Lift Stations are capable of transferring the wastewater created during the application process in a safe and effective way.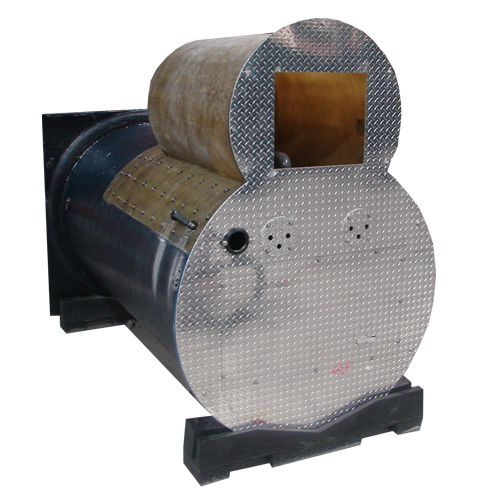 Standard configurations available for pre-packaged Fiberglass Pump Lift Stations include simplex (one pump), duplex (two pumps) or triplex (three pumps) arrangements. They should be used for applications with maximum temperatures of 180°F.
[Download the Fiberglass Pump Lift Station Data Sheet]
Cylindrical fiberglass basins are fabricated from ortho polyester resin (added corrosion resistance) with lifting lugs for installation and anti-floatation flange. Alignment to existing drain piping is ensured by specific factory installed connection nozzles.
The below grade sump pumps are fabricated with 316 stainless steel for corrosion resistance. Side or top inlet connections are also available for the customer's convenience. A level switch assembly or level transmitter is used for on/off control, via the included UL-Listed industrial control panel.
Slip resistant aluminum covers ensure the safety of pedestrian traffic. Other optional traffic rated covers are available with hinged access hatches for maintenance. Fall protection for access hatches an available option for additional safety.
Also available are both visual and audio alarms, and manual override switches. Web based remote monitoring allows the user to receive alarm notifications through cellular devices for off-site awareness and safety.
As with all of Wastech's industrial wastewater systems, fiberglass pump lift stations are factory assembled and tested before shipment to the customer.
For facilities with specific industrial processes, specifications or requirements, Wastech's large in-house engineering department can help create a customized fiberglass pump lift station to meet individual needs.
More About Wastech
Wastech Controls and Engineering, Inc. is a leader in process integration, engineering and manufacturing of fully automated industrial process systems. Wastech's core strengths are its people and their experience in process oriented industries. Wastech directly employs all the engineering disciplines required to thoroughly design and commission the systems it develops. Our process, mechanical, electrical and control system engineers come from diverse backgrounds with a range of experience from facility design, manufacturing and construction that enable us to tailor our systems to meet the specific needs of our clients.
Wastech's highly skilled fabricators and assemblers are competent in welding all types of plastic, assembly of piping and equipment, and installation of analytical instruments. Our panel fabrication shop is certified for UL 508A and UL 698A industrial control panels, and is unrivaled in build quality. Wastech is a certified member of the Control Systems Integrators Association (CSIA). Wastech has an unparalleled and distinguished history of customer service and support for many years following systems start and commissioning. Wastech is committed to partnering with our customers durin
g the sales, manufacturing and after sales cycles.
Check out Wastech's complete line of industrial engineered process systems
For more information about Wastech's Fiberglass Pump Lift Stations, or any other industrial wastewater treatment system Wastech offers, please call (818) 998-3500 or email us at

This email address is being protected from spambots. You need JavaScript enabled to view it.

.