Customized Neutralizations System for an
Industrial Waste Treatment Application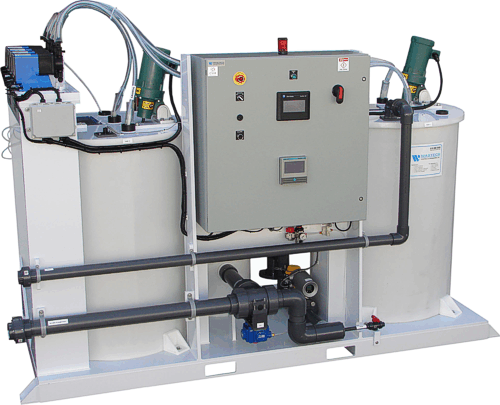 A skid-mounted waste treatment system by Wastech.

An example of a recent order placed by one of Wastech's distributors for an end-user customer is the above skid mounted, automated, OMEGA™ neutralization system. The customer had called the distributor for some pH components and tanks. The distributor then learned more about the application, which involved HF and other acids plus strong cleaners in the waste water, with pH swings from 2 to 12. After receiving this input from the distributor, Wastech engineers prepared an 8-page proposal with a sketch, bill of material, process description, and delivery schedule. With this help from Wastech, the distributor was able to offer a complete engineered skid-mounted solution.

| | | |
| --- | --- | --- |
| | | |
| Pulsafeeder metering pumps. | Flow meter detail. | Back view of skid. |

A project kickoff meeting was hosted by the distributor sales person, with the customer's engineers and Wastech engineers using WebEX over the internet. The purchase order was reviewed, the specifications were finalized, and site pictures were shared. A few weeks later, the engineering submittal package was delivered for the customer's approval prior to purchasing and fabrication. The package included wiring diagrams, layout, and product cut sheets.
This was a two stage neutralization systems with four Pulsafeeder metering pumps, Lightin industrial mixers, Signet pH sensors and transmitters, a final monitoring tank, a Toshiba flow transmitter, an actuated diverter valve, and a control panel with an Allen Bradley PLC and HMI operator interface. The OMEGA software package was customized for the display and PLC, and was licensed to the customer. The panel included a Monarch video data recorder and digital data logger. The entire system was tested before shipping.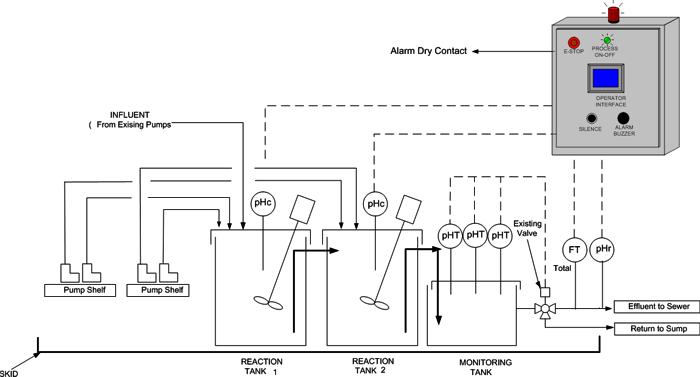 General layout of a waste neutralization system skid.
Wastech designs and manufactures automated waste treatment solutions, plus pump control panels, custom pump skids of all sizes, filtration skids and wastewater treatment skids. These include skids for acid or caustic neutralization and heavy metal removal of chrome, copper, zinc, cadmium and 18 other heavy metals.
OMEGA™ Neutralization Links:

For Assistance with Waste Treatment Solutions

Call us 818-998-3500 for a telephone presentation, engineering assistance, and a quotation.
Using WebEX online teleconferencing, we can define the opportunity, show examples of the hardware at other installed installations, and customize a solution four your client.
Harold Sipe – Senior Application Engineer (ext 224)